Coming September 2018!
The Japan-America Grassroots Summit is an annual intercultural exchange program. It honors the friendship between Captain William Whitfield and John Manjiro Nakahama, in which Captain Whitfield shared his home with a young Nakahama Manjiro after rescuing him from sea in 1841. The relationship was pivotal in building the Japan-US relationship after Japanese isolationism ended. In the same way Captain Whitfield opened his home to Nakahama Manjiro, the Grassroots Summit focuses heavily on a home stay program. Each year, Japanese prefectures and US states alternate as hosts to about 150 attendees who travel to the host prefecture/state to participate in a week-long visit that includes a three-day home stay.
Read the letter of support from Governor Jay Inslee and continue to check our webpage for updates!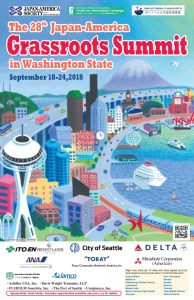 About the artists:
Emi Buckmaster is a graphic designer. She was born in Sapporo, Japan. She moved to Seattle in 2006 and graduated from Seattle Central Creative Academy.
Hideko Takahashi is a children's book illustrator. She was born in Osaka, Japan and educated at Doshisha University in Kyoto, Japan.