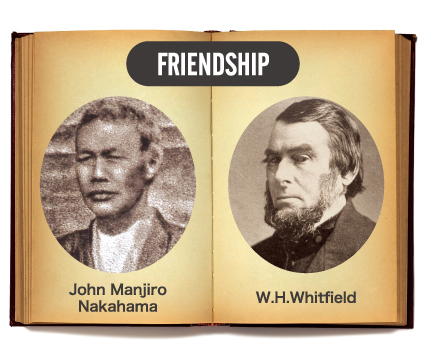 What is the Grassroots Summit?
The Japan/America Grassroots Summit is an annual intercultural exchange program. It honors the friendship between Captain William Whitfield and John Manjiro Nakahama, in which Captain Whitfield shared his home with a young Nakahama Manjiro after rescuing him from the sea in 1841. The relationship was pivotal in building the Japan-US relationship after Japanese isolationism ended. In the same way Captain Whitfield opened his home to Nakahama Manjiro, the Grassroots Summit focuses heavily on a home stay program. Each year, Japanese prefectures and US states alternate as hosts to about 150 attendees who travel to the host prefecture/state to participate in a week-long visit that includes a three-day home stay.
Nara in 2017, Hyogo in 2019
The 2017 Grassroots Summit took place in Nara, Japan. 2019 will be in the Hyogo Prefecture with Kobe as the central city.  There will be home stays available all across the prefecture. Attendees will be able to see and experience the life and culture of these areas while living with a Japanese host family. The event welcomes participants of all ages and occupations, including students.  To get more information online and to sign up, go to http://www.manjiro.or.jp/e .
Washington State — September 18-24, 2018
The Japan-America Society of the State of Washington will be hosting the 28th Annual Grassroots Summit in 2018.  Dates are Sepember 18-24, 2018.   Many Washington cities who have Japan Sister City relationships will each find host families for the 3 day host family portion of this great event.  Renton was our first official commitment!  Other cities include:  Auburn/Kent, Bellevue, Ellensburg/Kittitas County, Lakewood, Moses Lake, Mt. Vernon, Olympia, Port Townsend, Redmond, Seattle, Sequim, Tacoma.
Are you interested helping?
Are you interested in being a part of Grassroots? Then why not become a host family! One member from every host family will be welcome to attend the Grassroots Closing Ceremony at newly opening Hyatt Regency Lake Washington.
If you're interested in becoming a host family, please fill out our Host Family Information Sheet and send it to grassroots2018@jassw.org, 206-374-0175 (fax), or 3010 77th Ave SE Suite 102 to apply.
Email Grassroots2018@jassw.org for more information or go to the CIE website.
Sponsors: