JASSW is dedicated to promoting friendship between the people of Japan and Washington State through real-life grassroots exchange.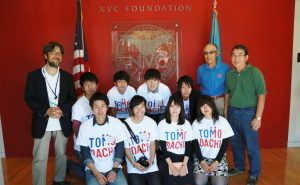 In 2014, the Japan-America Society of the State of Washington hosted eight students from Fukushima as part of a grassroots exchange launched by the TOMODACHI Initiative and the National Association of Japan-America Societies (NAJAS). Dedicated to the recovery of Tohoku, the TOMODACHI Initiative sponsors many Japan-US youth exchanges in an attempt to foster the next generation of cooperative American and Japanese leaders – a type of leadership exemplified in the US and Japan's aid efforts after the Great East Japan Earthquake. NAJAS and the Japan-America Society of the State of Washington decided to work with TOMODACHI in deepening people-to-people friendships between governments and young people in Japan and the US. The staff at our Society arranged visits to Safeco Field, Boeing Commercial Airplane Factory, Nisei Veterans Hall, and even JIS visits to local schools. The next year, our Society organized a trip to Japan for a group of 8 students from Washington State, thereby completing the two-way exchange.
The Society, however, was far from finished in terms of exchange and hosting programs. We have coordinated or assisted in the coordination of numerous exchange visits between Japan and Washington State. In 2016, we welcomed five high school students and two teachers from Saijo – a city that has provided invaluable support for our new education program, America in the Schools (AIS). For Saijo High School's Youth Development Program, we arranged a week of activities and home stays throughout the Greater Seattle area, including site-seeing tours, corporate visits with GOBO Enterprises and Costco International, a JIS visit to Bellevue Children's Academy led entirely by the students, and a volunteer experience at the Society's 56th Annual Golf Tournament. The Society is now preparing for Saijo High School's third annual Youth Development Program this August 2018. In addition, the Society now regularly works with Atomi University, Wako High School, Tacoma Community College to assist in organizing similar exchange activities.
Click here to see a full list of upcoming and past programs. If you are interested in being involved in upcoming exchange programs, such as hosting visitors or volunteering with local tours, please contact us at jassw@jassw.org or (206) 374-0180. Or consider becoming a corporate member and hosting a corporate visit for an upcoming student delegation.
In 2016, the Board officially decided to host the 28th Japan-America Grassroots Summit 2018 in Washington State. This program was founded by the John Manjiro Whitfield Commemorative Center for International Exchange. Around 150 people from Japan will visit Seattle as part of this annual exchange held alternately in the US and Japan. We have the cooperative of sister city organizations and city governments across the state to put on home stays and local activities in 14 localities across the state. As part of Atomi University's upcoming exchange in Longview, the students will be joining the Grassroots Summit as volunteers to gain work experience.
This high school exchange gives ten students from Sequim the opportunity to travel to Japan and home stay in their sister city of Shiso. Traditionally, this program has been hosted entirely by the Sequim-Shiso Sister City Association, but as of 2018, the program will be under the auspices of the Japan-America Society of the State of Washington in cooperation with the Sequim Sister City Association.