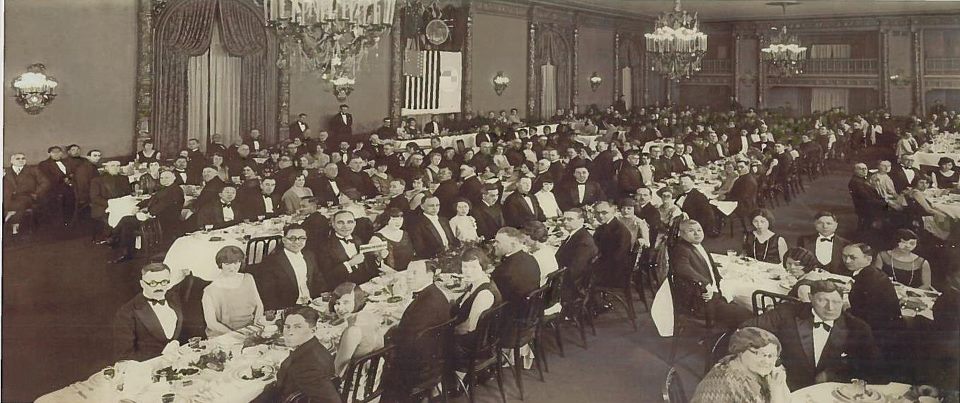 Our Mission and History
The mission of JASSW is to promote mutual understanding and friendship between the peoples of Japan and Washington State by providing a forum for the exchange of ideas and information.
JASSW was founded on July 24, 1923 by leaders from Seattle's business, academic, and diplomatic communities. Except for a brief period during World War II, our organization has remained active in fostering Japan-Washington State trade, business, and cultural activities and maintains a close relationship with key government and private organizations, such as the Consulate-General of Japan in Seattle and the Japan Business Association of Seattle.
Today, we maintain a diverse membership of Japanese and American corporations and individuals from throughout the state and provide varied programs that build positive U.S.-Japan relations. The Society is one of 38 independent members of the National Association of Japan-America Societies.
Until the 1980s, JASSW was run entirely by volunteers; today, our staff consists of full-time professionals and our Board of Directors is headed by an elected Chair and composed of local and state leaders in business, government, education, and the arts.
Diversity and Inclusion Commitment
The Japan-America Society of the State of Washington is committed to fostering an environment of diversity and inclusion for all people and groups regardless of race, gender, religion, sexual orientation or country of origin.   As part of our mission to deepen friendship and understanding between the people of Washington State and Japan, we strive to open hearts and minds to the intrinsic value of every individual.  Through our programs we help overcome bigotry, hatred, and violence through education, social events, partnering with other organizations, engaging in advocacy, and reporting surrounding bias.  As an organization, we will continue to champion inclusivity, diversity, and social equity.  Join us as we provide a safe, understanding, and supportive environment for LGBTQ and all community members.
Resources
Bainbridge Island Exclusion Memorial: http://bijaema.org/
Bainbridge Island Japanese American Community: https://bijac.org/
Densho: https://densho.org
Nisei Veterans Committee/NVC Foundation: http://nvcfoundation.org
Nisei Soldier Stamp: https://niseistamp.org
King5 News had a show on "Facing Race" that had good information and discussion with experts on how to talk about race. https://www.king5.com/facing-race
COVID-19 Update
Dear members and friends:
Thank you for your support of the Japan-America Society of the State of Washington for the past challenging year.  Our last in-person inside event was February 2020 for the Empowering Women in Japan and the U.S. We did a cold, wet, but fun 60th Golf Tournament last September. This year, we expect to have a great 61st Golf Tournament on July 28th complete with the awards dinner at the Golf Club at Newcastle. Please join us.

Operations: Our staff is fully back in the office. All are fully vaccinated and we welcome other fully vaccinated members and friends to visit on a limited basis. Our healthy procedures include temperature checks, limiting the number and timing of visitors. Please schedule appointments if you would like to visit our office.
Microsoft Teams and Zoom:  Our standard communications platform is Microsoft Teams thanks to our non-profit subscription to Office 365, but we have become proficient with Zoom as well. In addition, we have developed skills in streaming to other platforms, such as YouTube Live and other services with video production tools. We had the usual learning challenges early on and have worked hard to be able to produce better webinar type as well as live events.
New skills and capabilities: With new videography and video editing equipment and skills, we are working to expand the media presence for our speakers and members. We are looking at ways to provide greater visibility for our members and speakers. We are open to your suggestions on the services that can provide greater membership benefits.
Please stay safe and diligent as we all do our part to address COVID-19.
Best regards,
Dale L. Watanabe
Executive Director