Thank you to everyone who braved the cold weather to come to the Japan-America Society of the State of Washington's fifth annual Japan Update at the University of Washington on February 20, 2018. This year's topic was Immigration and Workforce Diversity: Contrasting Issues for Japan and the United States. We welcomed our expert speakers: moderator and partner at Davis Wright Tremaine, LLP Chris Helm, Washington State Supreme Court Justice Steven Gonzalez, and former Vice President of Toyota Motors Corporation and current CEO of the Outlook Foundation Yoshio Ishizaka.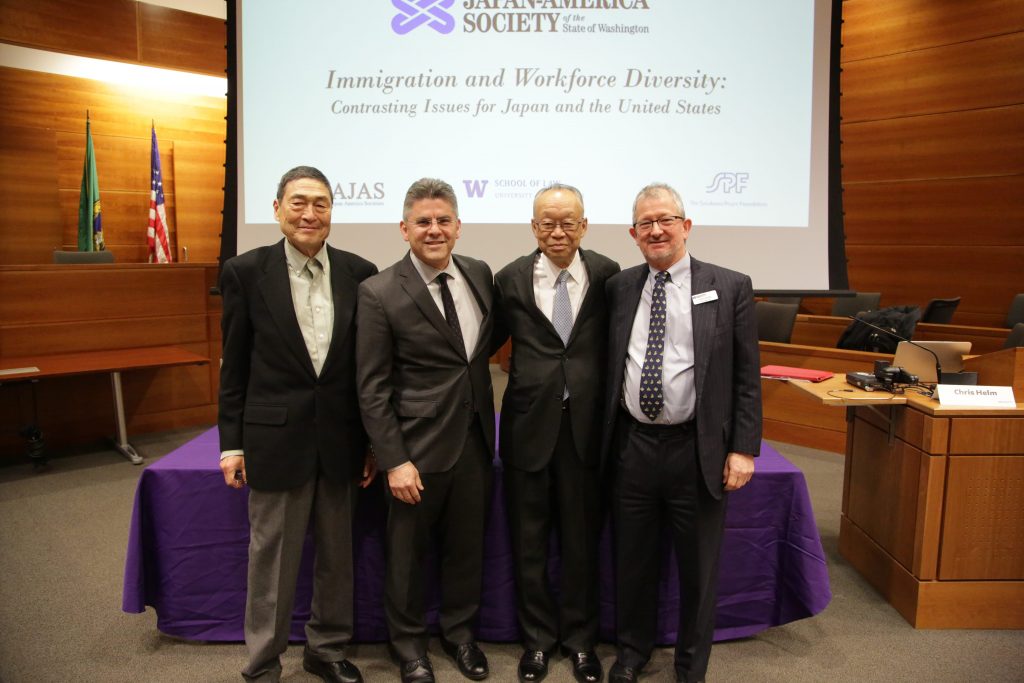 We started the evening with a special networking reception for our speakers and VIPs, including Consul General of Japan in Seattle Yoichiro Yamada. Guests had the opportunity to speak with our speakers one-on-one while eating some delicious appetizers.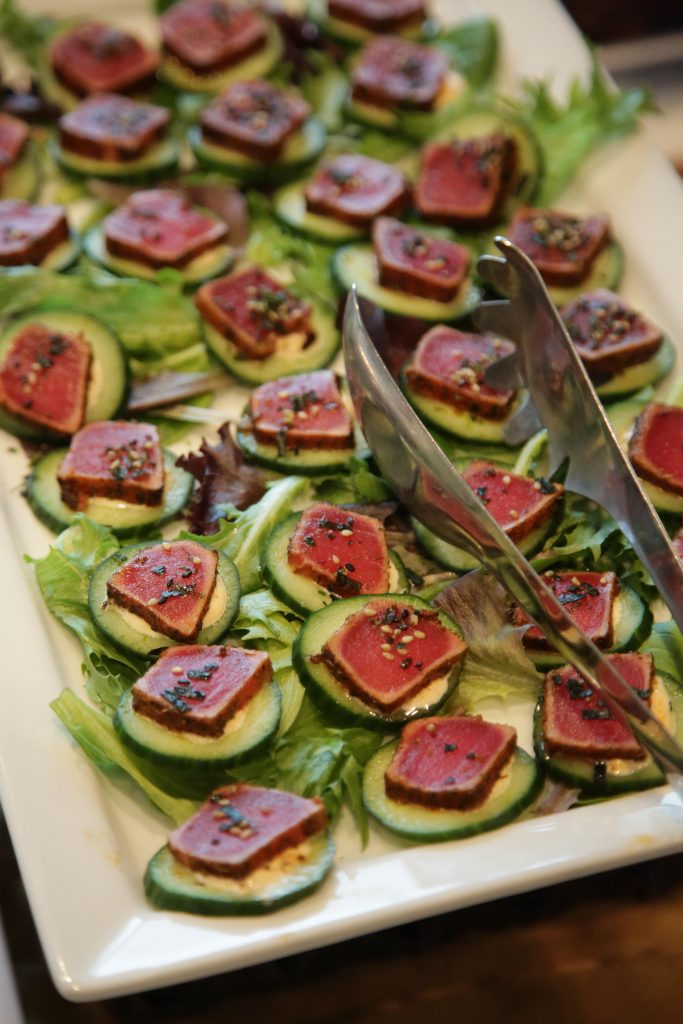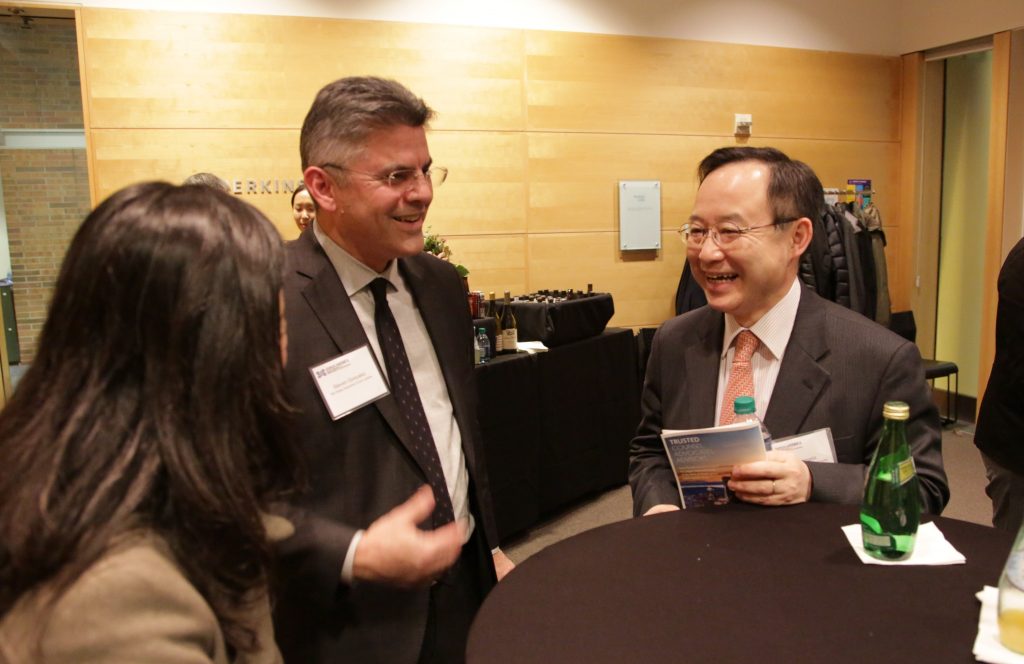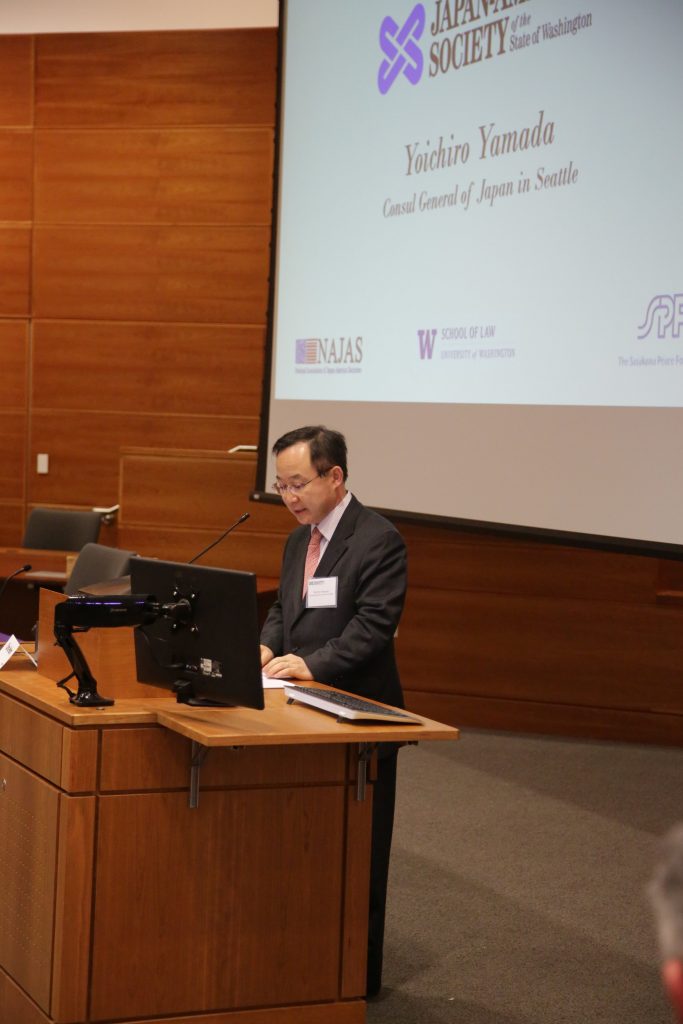 After the reception, everyone moved to the lecture hall to hear our speakers' presentations. Consul General Yamada gave his opening remarks, giving everyone an excellent context for the situation. He explains how Abe has said Japan does not have an immigration policy, and informs the audience of the opposition against immigrants and foreign workers despite workplace shortages and growing need for jobs like nurses and caregivers for Japan's rapidly aging population. Japan continues to deny the value of allowing in foreign workers, including a more diverse pool of ideas and talent within the country, an increase in young, net contributors to social security, and the fact that these often young foreign workers are active consumers who support the economy. He brings up a number of questions to get us thinking about the topic in a more nuanced way. If you accept a high level foreign engineer, do you also allow his spouse to come to the country and work? What about divorcees whose children are Japanese citizens? Will you make that divorcee leave the country and her children?
After Yamada-san's thoughtful opening comments, Moderator Chris Helm came up and put some of these ideas in a U.S. context. The process of immigrating to U.S. is vastly different as well as the challenges faced by each country. Being an island country, it is geographically more difficult for immigrants to illegally enter the Japan, and being a homogeneous country it is more difficult for foreigners to blend in when they do get there. Whereas the U.S. is a much more diverse country and it is easier for an immigrant to blend in.
Chris then welcomed and introduced our esteemed speakers, Justice Gonzalez and Ishizaka-san.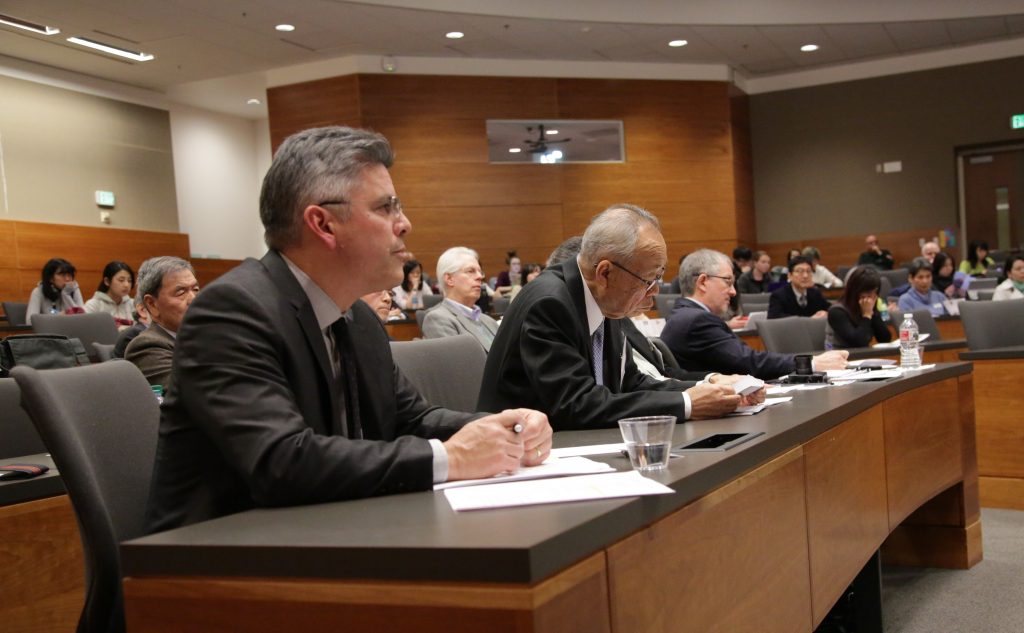 Ishizaka-san introduced us to the Outlook Foundation and his work with them to deal with the country's workforce shortage through four focus areas: revitalization of small and rural communities, improving gender equality and opportunities for women in the workforce, education reform, and as the topic of the event suggest, introducing a new type of international exchange by welcoming more immigrants and foreign workers to offset Japan's population decline. The Outlook Foundation has gone to great lengths to organize multiple focus groups to analyze the topic and best address the issue, looking at the acceptance levels of foreigners in Japan, the challenges they face, the outcomes of multicultural operation in the workplace, and more. He explains how the Foundation aims to pressure the government to establish clear policies for the acceptance of foreign residents, such as by offering language support, and to offer clearer paths to gaining permanent residency in Japan. Justice Gonzalez later praised the Foundations efforts to do thorough research to solve the immigration issue and their efforts to bring workers in on a equal footing to the Japanese rather than as second class citizens.
Justice Gonzalez elaborated on this in his speech, giving an overview of the legal history of immigration policy in the United States, laying out the restrictions, abuses, and prejudicial policies that often faced immigrants and those who wished to immigrate to the U.S. He showed the audience how the current president's attitudes toward immigration are not markedly different from the fundamental policies of the U.S. and how we have historically used immigration to classify the races the country viewed as "inferior" and bring in immigrants as second class citizens.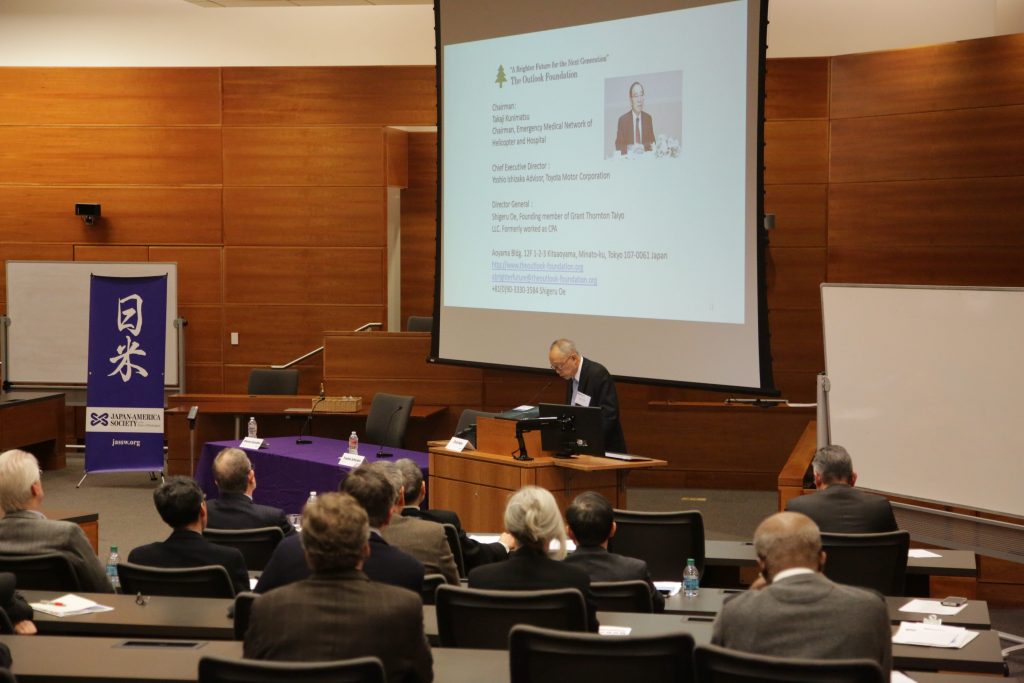 You can find the slides for our speakers' presentations here:
Justice Gonzalez's presentation.
After the speeches, the audience was given an opportunity to ask the speakers questions. This led to very interesting discussions about naturalization versus permanent residency, the potential abuses of Japan's new foreign worker system, dual citizenship as another means of maintaining the Japanese work force, and what an ideal immigration system might look like. We would have kept the conversation going, but we might need to wait for a follow-up event to do so.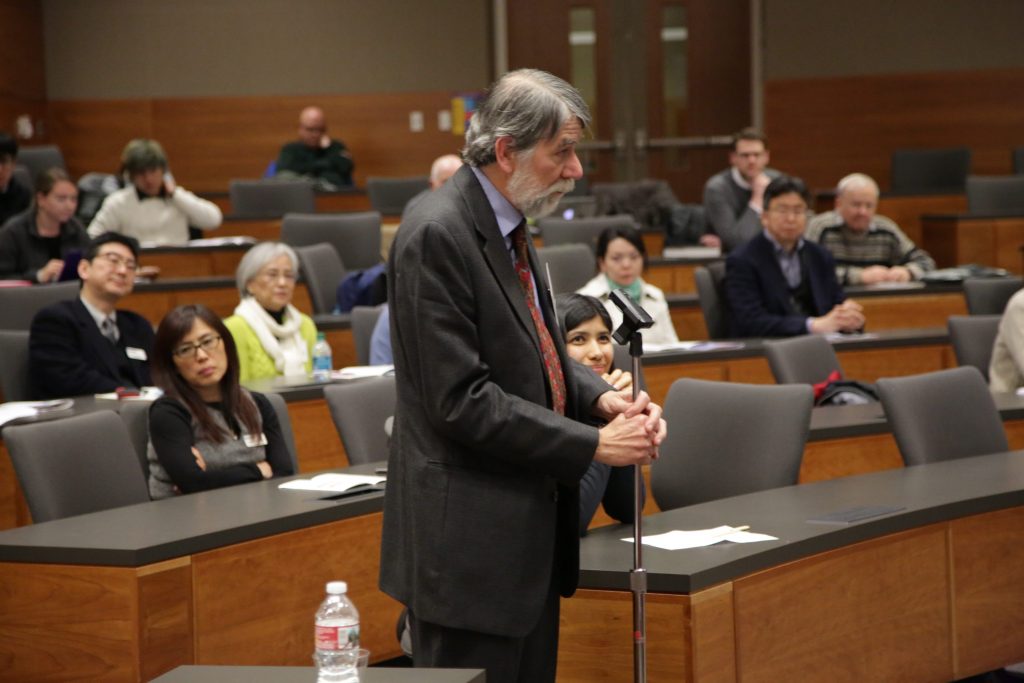 Thank you to our event sponsor Lane Powell.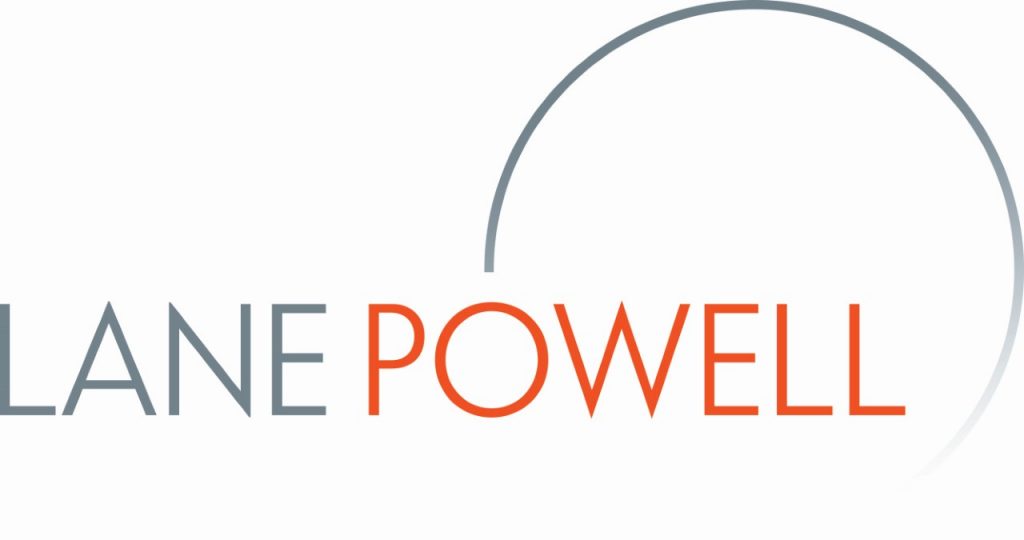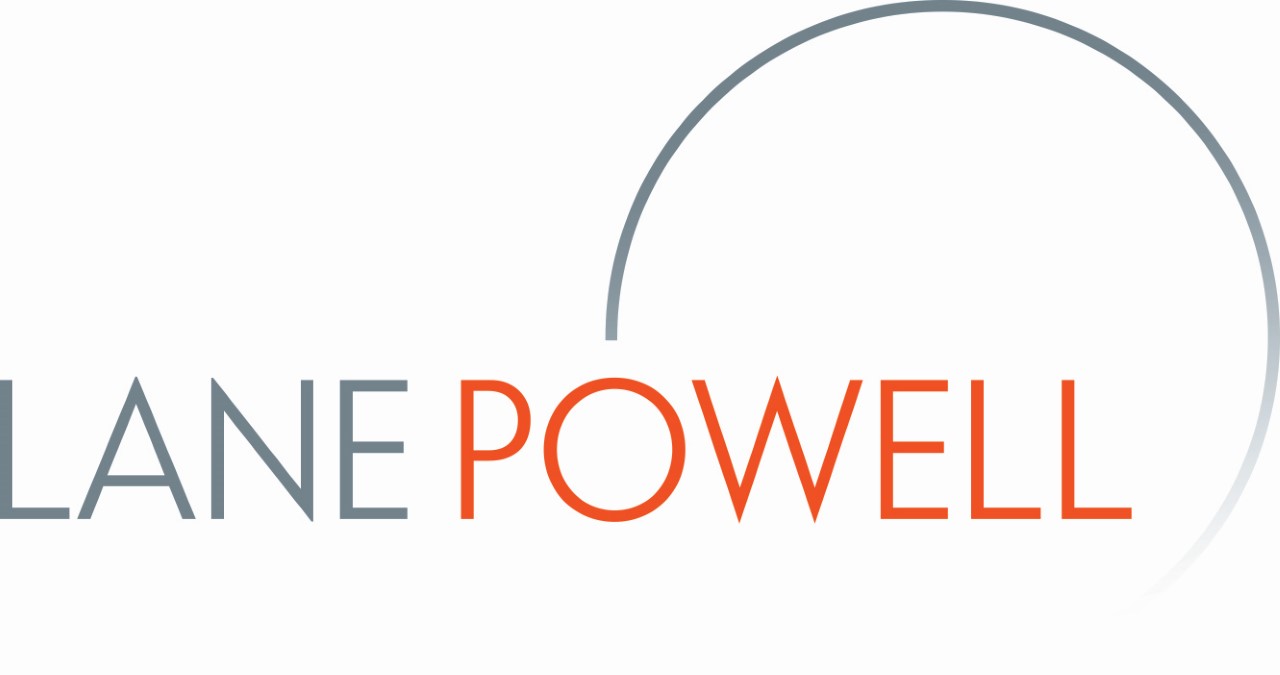 Check out more upcoming events and follow us on social media to keep up with JASSW.