One of the volunteers for our golf tournament, Yuto Komatsu, wrote us a reflection of his experience volunteering for us! He is an international student at Seattle Central College and it was his first time at one of our events! You can also read more about our golf tournament here!
There is an English translation following the Japanese.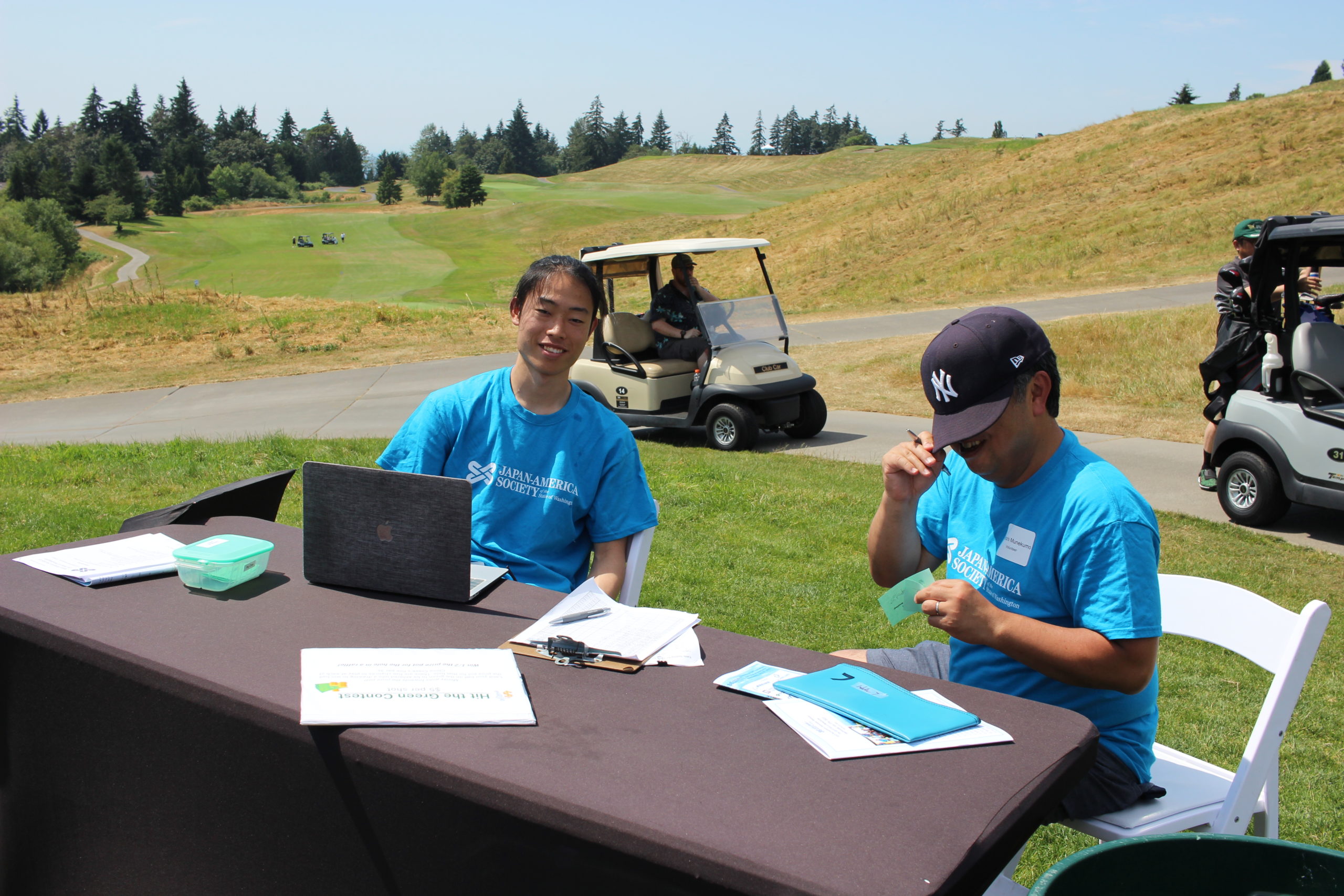 Golf Tournament
Reflection
---
by Yuto Komatsu
会場はThe Golf Club at Newcastle。集合時間に少し遅れてしまったのですが、到着してすぐJASSWの皆さん、そしてボランティアの方々が温かく迎え入れて下さいました。
食事券を頂き、食事をとってから自分の担当するコースへ。JASSW代表のデール・ワタナベさんが、ゴルフカートを運転して連れて行ってくださいました。
デールさんと一度お話しさせて頂いた際、温厚で柔和な印象を受けたため、そのイメージしか持っていませんでした。しかし、ゴルフカートの運転となると一変。温厚な表情、語り口からは予想できないような運転。
傾斜が激しい道を爆走したかと思うと、ショートカットのためかコースのグリーンに突入。それはディズニーシーの人気アトラクション「インディージョーンズアドベンチャー」を彷彿させる大爆走。
カートが横転するギリギリの傾斜や、湾曲の激しい丘を爆走し、危うく外に放り出されるところでした。(※事実とは異なります)
無事コースに到着し、ボランティア業務を開始。集まってくださった方々は何かしらの形で日本と関わりがあり、日本に親しみを持つ方が多くいました。また、日本語で挨拶してくださったり、「これは日本語でなんていうの?」と質問して下さり実際にその日本語を使ってくださったり、と、とても嬉しい体験をしました。
1日通してお会いさせて頂いた方々は余裕や品性が違うなと感じ、こういう世界もあるのかと大変勉強になりました。世界で活躍する日本人になりたいと、強く思った瞬間でもありました。
コースでの業務が終わり、スタッフの方がゴルフカートで迎えにきて下さいました。僕の座席はなんと、カート後部のゴルフバック置き場。
はじめは髪を靡かせ、全身で風を受け爽快感を感じていました。しかし、途中から状況が一変。
急な傾斜を登る際、掴まる箇所がないため、後ろに踏ん反り返りそうに。ガラスにペタリと張り付くカメレオンのように、指の設置面積を最大化させることで摩擦係数を最大化。なんとか登り切ることに成功しました。
そんな話はさておき、驚いたのが、この大会のスポンサーをされている企業のラインナップ。世界を代表する有名企業がスポンサーをして下さっていたことです。JASSWさんの凄みを感じとった瞬間でした。
イベントの締めは半屋外、素晴らしいロケーションでの食事会。豪華な食事と、サイレントオークション、当たりくじなどイベントが盛りだくさん。みなさん大盛り上がりで、最高の1日を過ごすことができました。
稚拙な文章をここまで読んでくださり、ありがとうございました。
とにかくお伝えしたかったのは、このイベントの参加者の方々、ボランティアの方々、関係者の方々、つまりこの大会に関わるすべての人が素敵で、イベントを楽しまれていたことです。
またボランティアの機会があれば、是非参加させて頂きたく思っています。それほど楽しく貴重な経験でした。このイベントに関わっておられた全ての方に御礼申し上げます。ありがとうございました。
以上、僕の歪みすぎたレンズを通して見た、偏見に溢れるゴルフトーナメントの振り返りでした。
---
The setting is at The Golf Club at Newcastle. Regardless of the fact that I arrived slightly late to the volunteer orientation, the JASSW staff and the other volunteers greeted me warmly.
I received a voucher for lunch, which I exchanged for my meal, and then set off to the hole I was in charge of. The Executive Director of JASSW, Dale Watanabe, took me to the course with the golf cart.
Through chatting with Dale, he struck me as a mild-mannered and gentle person. However, once he started up the golf cart, there seemed to be a sudden change with his gentle mannerism and he drove in a way I could not imagine possible.
As we drove down the steep slopes of the road, perhaps as a shortcut, we cut through the green and sped away at a pace that resembles Disney Sea's popular attraction, "Indiana Jones Adventure". I barely managed to escape being thrown out of the cart while we were dashing through the sharp curves and slopes steep enough to almost overturn our cart. (*Not based in reality)
Once we safely arrived to the course, I officially started my volunteer duties. Throughout the day, I met many golfers who had some degree of connection and familiarity to Japan. Many of them also greeted us in Japanese or asked us how to say something in Japanese, after which they practiced using their newfound knowledge and it made me happy. It was an amazing experience.
I was able to observe the different styles and characters of the players, and I learned so much about the world of golfing. It inspired me to become a Japanese person who is capable of working internationally.
After finishing my duties on the course, another staff member came to pick me up with a golf cart. To my surprise, my seat on the cart was actually at the very back, in the area meant for golf bags.
On the journey back, the refreshing breeze brushed through my hair and then, through my whole body. However, once again, this journey turned out to be another dangerous adventure.
Since I didn't have anything to grip onto, I almost fell out of the cart when climbing a particularly steep hill. Embodying a chameleon who sticks itself to glass, I spread out my fingers out to get the max potential friction against the window and somehow managed to overcome this challenge successfully.
When climbing a particularly steep hill, since I didn't have anything to grip onto, I almost reclined/fell out. As if I was a chameleon who sticks onto glass, I spread out my fingers to their max potential to get the most friction and was able to overcome the challenge successfully.
Setting aside that ordeal, the thing that surprised me the most was the line up of sponsors for this golf tournament. I was impressed with JASSW's reach and presence, as there were many famous companies with worldwide branding sponsoring the event.
The tournament closed with a buffet in a beautiful semi-outdoors location. There was delicious food, a silent auction, and a raffle, which made for an exciting event. Thanks to everyone's energy and spirit, I was able to have an amazing day.
I appreciate you taking the time to read my writing. What I want to say most is that I thoroughly enjoyed the event and it was thanks to the participants, volunteers, support staff, and all of the wonderful people who were part of this golf tournament.
I had so much fun that I look forward to the next opportunity I can volunteer. I would like to thank everyone who helped make this event come alive, and thank you for reading my very biased and overexaggerated experience of the golf tournament.
English Translation by Michiko Yoshino