JASSW Celebrates Its 3rd Annual Japanese Festival
On March 18, 2023, JASSW was proud to collaborate with four Japanese-English bilingual professionals during the 3rd Annual Online Japanese Language Festival: Artist-Athlete-Educator Kofi Bazzell-Smith; Multi-Instrumentalist and Film & TV Composer Tai Kimura; Nintendo of America Manager Carolyn Whittingham; and Nintendo of America Program Manager Dylan Rhoads. Each led breakout room presentations for festival attendees seeking inspiration and advice from successful professionals.
JASSW is grateful for the fortune of meeting such successful and charismatic professionals. Along with guest speaker sessions, over 70 attendees participated in activities like answering comprehension questions about the Opening Remarks delivered in Japanese by Education Committee Chair Masami Katayama; solving riddles in a virtual Escape Room; viewing finalists and voting on favorite Lip Sync Contest submissions; and a Manga Drawing Contest judged by Kofi Bazzell-Smith. Congratulations to Contest Winners Allyson M. and Riley M-O. from South Kitsap High School! Congratulations also to the festival's winning Team 8 (Jeanette W., Jeremy S., and Joonjoo L.)! You can also see some of the Lip Sync Contest and Manga Drawing Contest submissions at the bottom of this page!
About the Guest Speakers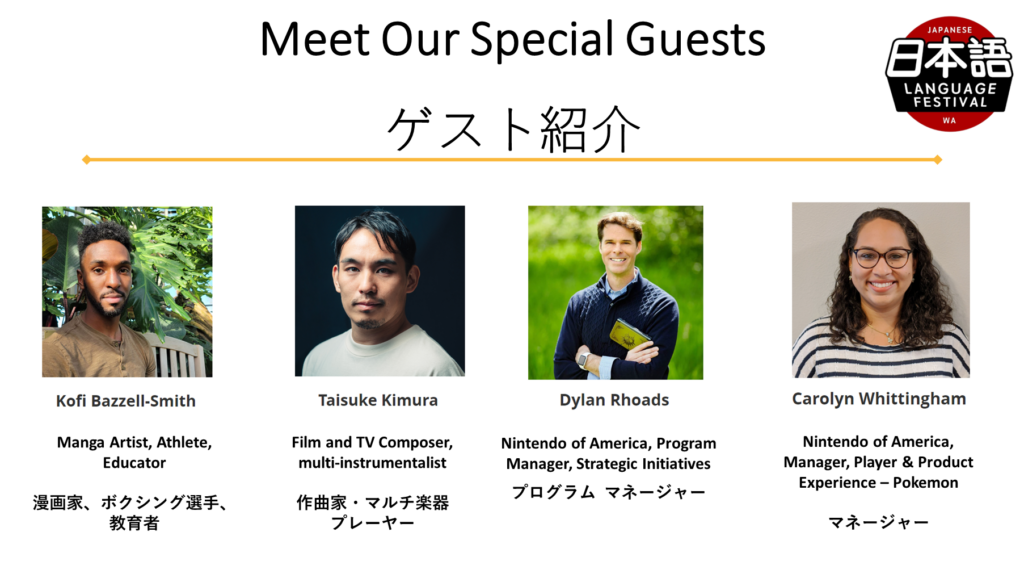 Joining the online festival from Los Angeles, California, Tai Kimura was the only native Japanese speaker among the guest speakers. He started learning violin since the age of four, grew up in Japan, graduated from Tokai University, and worked in sales at a Japanese company. However, at the age of 26 he decided to enroll at Berklee College of Music in Massachusetts and pursue a career in music.
Tai's audience was eager to learn how to enter the music industry. One of Tai's pieces of advice for students was that success comes mostly from networking. "I always say that 80 percent of success comes from networking," he points out. He describes moving careers and cities multiple times in his life. Each time, Tai regularly makes an effort to meet new people. Many of his colleagues receive composing jobs through friends. Tai himself helped a peer on such projects as the video game, For Honor.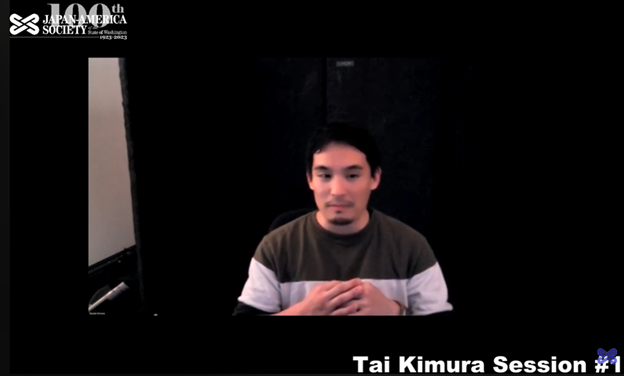 Tai also stresses that age doesn't matter. He cites some successful composers who are only 18 years old – a message that energized the festival's student attendees. They were also excited to ask about Tai's experience as a band member in Japan and his work with artists like One OK ROCK and Baby Metal as an international promoter.
It was inspiring to hear Tai's story as a young person in Japan who pursued his dream without fear. Now, he collaborates with people around the globe from his home studio in California. He therefore understands the importance of language skills. "I think it's very important to learn different languages and also cultures so you can collaborate with different artists and companies," he said. He is now learning Italian and Spanish.
You can hear some of Tai's work in the new film, Missing, starring Nia Long and Daniel Henney. The thriller is in theaters now. You can follow Tai on www.TaisukeKimura.com.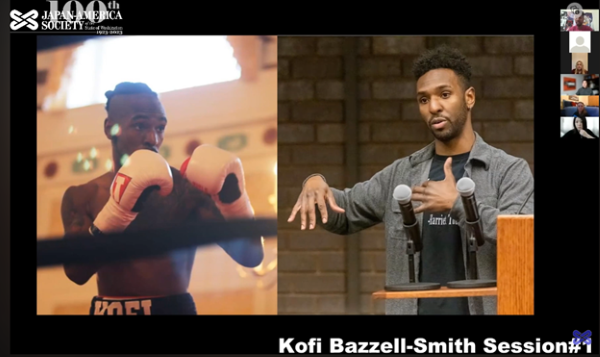 Kofi Bazzell-Smith also drew in a large audience because of his specialty in manga. He has loved the art form since the age of eight. His goal is to become a published manga-ka in Japan and the first manga educator in the US. He notes that there are no institutions that teach manga practice anywhere in the country – yet. Kofi is about to bring his mentor and author of Phoenix Wright Ace Attorney Kazuo Maekawa to University of Illinois as a resident artist and educator. He notes that he first reached out to Maekawa on Facebook. His networking skills has also led to a meeting with legendary artist and creator of boxing manga, Ashita no Jo- (Tomorrow's Joe), Chiba Tetsuya.
Writing manga is one way Kofi practices Japanese. He posts his work online and requests language edits from viewers. He studied under a professor at Kyoto Seika University, known as the world's top school for manga artists. However, he developed most of his Japanese fluency in Japanese boxing gyms. Along with manga artist and educator, another of Kofi's titles is professional boxer. During research trips to Japan as a graduate student, he sought training opportunities with Japanese boxers. "Try to pursue your interest in Japanese and you'll learn the language so much quicker…because we learn language through imitation," Kofi advises. This isn't to say that language learning in schools is not useful. Kofi encourages students to take advantage of funding from schools to further their language studies and other passions.
Kofi's audience was able to learn insider knowledge about manga. He detailed his process for creating manga – script, thumbnail (rough draft), ne-mu (detailed rough draft), final draft, and Clip Studio. Whereas American storylines tend to follow the three-part arch of Introduction-Conflict-Resolution, many Japanese storylines follow Chinese poetry's four-part kishoutenketsu structure of Introduction-Development-Twist-Resolution. He also points out that manga focuses on crafting a cinematic experience for the viewer. Osamu Tezuka's drawing style, known as the grandfather of manga, was inspired by Disney movies.
While teaching manga practice and boxing, Kofi is working on action-comedy manga, Azuki, and family drama manga, Karasu (Crow). Azuki will be published in English and Japanese around December by an American company. Follow Kofi on www.KofiManga.com.
Nintendo of America Managers Carolyn Whittingham and Dylan Rhoads were yet another popular choice among student festival attendees. The two JET Program alumni co-presented on their journeys to professional and linguistic success.
Born in Jamaica, Carolyn Whittingham worked at various Japanese companies like Mitsubishi and Toyota as a translator and localization specialist. She knew she wanted to work in the competitive gaming industry and so enrolled in a rigorous master's program at the Middlebury Institute of International Studies at Monterey in California. With much perseverance and some luck, she was able to enter Nintendo of America's Player & Product Experience for Pokémon. Carolyn's message was to have passion, even in the face of rejection. Hard work will eventually lead to success. "If you're not getting to where you want, that doesn't mean you're failing, it just means you're not there yet," Carolyn says. She also encourages attendees to network. She points out that even friends that you meet at events like the Japanese Language Festival can lead to opportunities to help and be helped. You can follow Carolyn on www.LinkedIn.com/in/Carolyn-Whittingham/.
Dylan Rhoads works on Nintendo of America's Strategic Initiatives team. While he has always harbored a love for video games, he only started learning Japanese as a computer science major at the College of William & Mary. An internship at Komatsu Limited in Japan, referred by his college Japanese professor, solidified Dylan's language skills and commitment. After dedicating three years to the JET Program and Japanese Language Proficiency Test, he eventually worked at Square Enix, producing projects like Final Fantasy XI. Now, he works at Nintendo of America and sometimes collaborates with Carolyn on Pokémon projects. Dylan credits his Japanese teacher at William & Mary for inspiring his bilingual journey. He encourages students to share their goals with teachers, not just for their recommendations but also the genuine connections to Japanese language. "I know [Japanese] is difficult, but every day I'm grateful for my teachers…and my friends from Japan who helped me." Dylan's commitment to Japanese studies was renewed by every conversation and opportunity to practice the language. You can follow him on Twitter at www.Twitter.com/DylanRhoads. 
A Special Thanks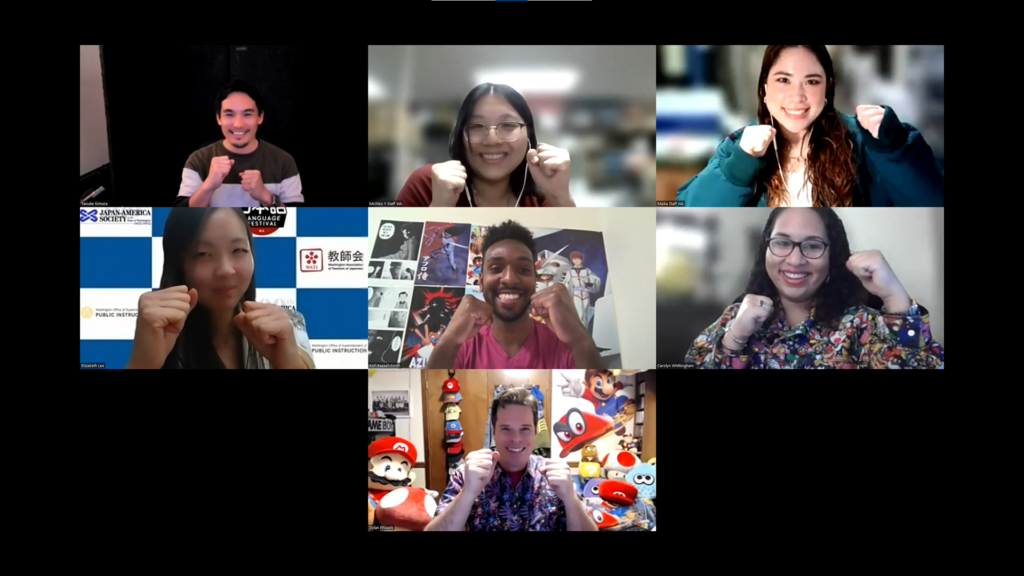 Connecting students in Washington and Japan with individuals like these is just one way that the Society furthers its mission – to foster understanding between Washington and Japan. Please support us and our special guests by following on social media. Thank you to the Washington Association of Teachers of Japanese, the Office of the Superintendent of Public Instruction, Nintendo of America, and our facilitators and volunteers. Thank you to the attendees for your participation. We hope to see you all at next year's bigger and better in-person festival!
Lip Sync Contest Submissions
Watch from the below or through Youtube.
Manga Drawing Contest Submissions