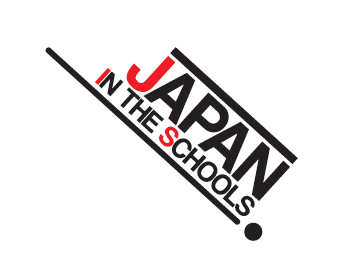 Japan in the Schools (JIS) is a signature program of the Japan-America Society. Offering free educational presentations to schools in the Puget Sound region, the program has two distinct parts. The Japan In a Suitcase presentation is for elementary, middle, and highschool classes who want to learn about Japanese Customs and History and the Japanese Language and Culture Visits (JLCV) are roleplaying immersion presentations for high school students already studying Japanese. These programs have been extremely well received since their inception in 1994.
JIS is a collaborative work of volunteers and sponsors. Over the years JIS has served more than 60,000 students in the Puget Sound Area. This long, steady effort and outstanding work has been recognized by the Mitsubishi Corporation and the Center of Global Partnership, both of which gave us significant grants in 2009. These grants recognize the quality of JIS programming and the service our volunteers provide to the community. We would also like to recognize Weyerhaeuser for their ongoing support and donations since our inception. JIS is very honored and encouraged by all the support we have received from our volunteers, individual donors and grants. We would like to express our gratitude to everyone who has made it possible for us to keep visiting the schools all these years.
We also attend many school functions as well as a variety of culture fairs and festivals.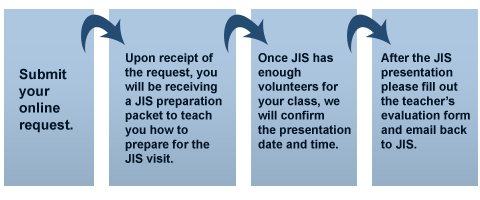 Programs are free.
Our regular program is 50-60 minutes long.
We appreciate the use of PowerPoint and a projector for our presentations; however it is not necessary.
Please allow us 5 minutes for setting up in your classroom.
During the presentation, please keep an eye on your students to avoid any distractions.
For requests, please allow 3 weeks to process.
In addition to providing your students with a unique experience, JIS thinks of our curriculum as more than just Social Studies but also as a potential writing exercise to help meet the Washington Education guidelines.
Any announcements of school closures or delays by the school district will result in JIS canceling the presentation. Please be aware that our volunteers come from various locations so we may have difficulty doing a presentation on a snow day.
After our presentation is done, we will ask you to fill out a Teacher Evaluation form and email it back to us. Our volunteers complete a Volunteer Evaluation form as well. We take this feedback very seriously. We like to keep a record of how our presentations go so we can continue to improve our programs. All correspondences are by e-mail, so please don't forget to add the JIS coordinator's email address to your safe list so that JIS emails do not end up being marked as junk.
Thank you for your interest in the JIS program. We look forward to your request!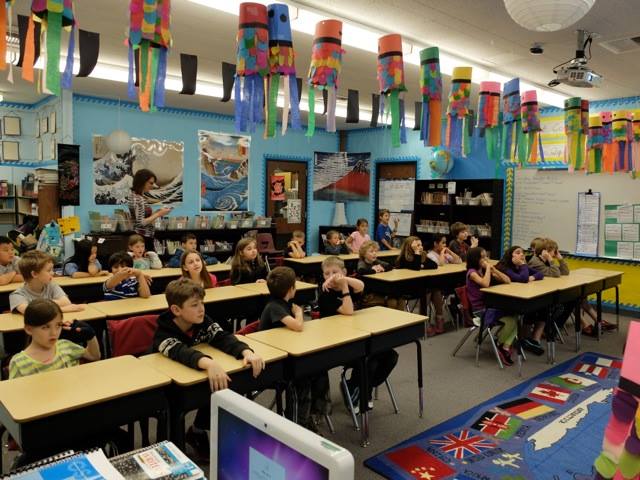 Japan in a Suitcase
The Japan in a Suitcase curriculum presents a day in the life of a Japanese child using visual aids and items from Japan to make the experience as real as possible. Common items used by Japanese children in everyday life – at home and in school – are brought to the school in a suitcase and used to show how a young Japanese student spends a typical day, from morning to night.
JLC Visits
Japanese Language and Culture Visits (JLCV) curriculum provide a Japanese language total-immersion experience for high school students. JLCV is designed to help motivate American high school students to continue improving their recently acquired Japanese language skills. They do this by increasing their exposure to Japanese speakers with a total-immersion experience.
Request a JIS Visit
Request for either a Japan in the Schools or Japanese Language and Culture Visit here. Also, head to our JIS Calendar Page to see our schedule of future visits. The process is easy: Apply using the form linked below and we'll contact you as soon as we can about scheduling a time for you. After we gain enough volunteers, we'll finalize the visit.
Volunteer for a JIS Visit
Volunteers are a large part of the success of the Japan in the Schools (JIS) program. Once you submit a volunteer application form, the JIS coordinator will contact you regarding your first training, which can be visiting schools as an observer once or twice with experienced volunteers or attending JIS training workshops.
People in countries around the world may lead lives that seem very different to us. Cultivating a sense of cultural awareness in children and teaching them how to appreciate foreign customs and value systems is one key to future peace in the world. Japan in the Schools (JIS) is bringing a suitcase full of small tools to your classroom as a way to introduce you to Japanese culture.