JASSW is dedicated to promoting friendship between the people of Japan and Washington State through real-life grassroots exchange.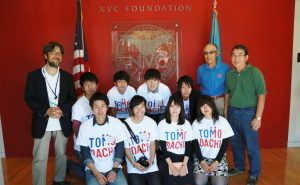 In 2014, the Japan-America Society of the State of Washington hosted eight students from Fukushima as part of a grassroots exchange launched by the TOMODACHI Initiative and the National Association of Japan-America Societies (NAJAS). Dedicated to the recovery of Tohoku, the TOMODACHI Initiative sponsors many Japan-US youth exchanges in an attempt to foster the next generation of cooperative American and Japanese leaders – a type of leadership exemplified in the US and Japan's aid efforts after the Great East Japan Earthquake. NAJAS and the Japan-America Society of the State of Washington decided to work with TOMODACHI in deepening people-to-people friendships between governments and young people in Japan and the US. The staff at our Society arranged visits to Safeco Field, Boeing Commercial Airplane Factory, Nisei Veterans Hall, and even JIS visits to local schools. The next year, our Society organized a trip to Japan for a group of 8 students from Washington State, thereby completing the two-way exchange.
The Society, however, was far from finished in terms of exchange and hosting programs. In 2016, we welcomed five high school students and two teachers from Saijo – a city that has provided invaluable support for our new education program, America in the Schools (AIS). And in 2018, the Board has officially agreed to host the CIE-US Grassroots Summit. Around 200 people from Japan will visit Seattle as part of an immense annual exchange held alternately in the US and Japan.
See reports of our past programs:
· Tomodachi/NAJAS Grassroots Exchange Program – Coming to America! 2014
· Tomodachi/NAJAS Grassroots Exchange Program – Going to Japan! 2015