This afternoon we hosted a panel discussion and Q&A about the new WA Cares Fund tax. Moderated by Kanako Matsumoto of Nishijin Accounting and Consulting, Dr. Ben Veghte, Director of the WA Cares Fund, and Tsuneko Nakatani, a New York Life Insurance agent, discussed this new policy based on attendee's questions submitted both before and during the event.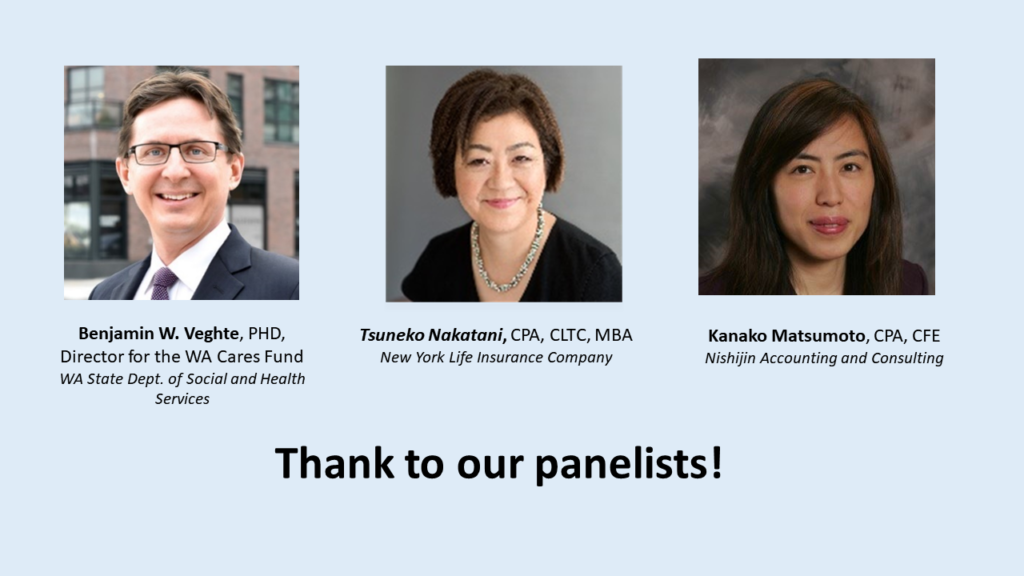 Dr. Veghte discussed how this program came to be and why it looks the way it does. It was particularly fascinating to hear his insights on how this program compares to similar programs in other countries just as Germany and Japan and why there is only one opt-out period at the start of the program. He explained that this program is meant to be utilized in conjunction with other state programs such as Medicaid and Social Security. It was interesting to learn that they calculated the benefit of the program on what a reasonable paycheck withholding would be because the program is entirely self-funded.
Tsuneko brought the perspective of the insurance industry. She explained what long-term care insurance is and what general types are available. She also explained how and why many companies have stopped offering this service in Washington State and her predictions on if/when they will come back.
Both Tsuneko and Dr. Veghte emphasized that conditions with this new tax and with the private insurance industry are changing and updating quickly but their insights on the current situations helped address many of the attendee's questions and concerns.
A big thank you to Kanako, Tsuneko, and Dr. Veghte for taking the time to share your insights and knowledge with us!