September 24th, 2018
Monday
The final day of the Summit has come. Today we said goodbye to all the Japanese guests as they headed back to Japan. The students from Unebi High School saw off Seattle with some sunrise RAJIO TAISO looking over Lake Washington.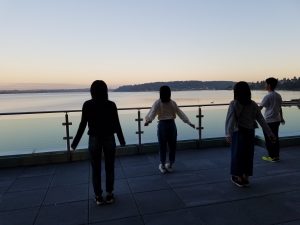 In the end, the Grassroots Summit welcomed 139 Japanese guests who stayed with 114 host families in fourteen Local Sessions across Washington State. Over 120 people joined as volunteers, whom the CIE praised as being one of the best volunteer groups in recent memory. Over 300 attendees joined the Opening Ceremony aboard the Argosy Cruise to Tillicum Village on Blake Island on September 19. This included the descendants of John Manjiro Nakahama, Captain William Whitfield, and Commodore Matthew Perry who maintain their ancestors' friendships by taking part in the Summit every year. It also included 42 representatives from Japan-America Societies across the United States and Japan who were in town as part of the corresponding Annual Meeting for the National Association of Japan-America Societies. Approximately 500 guests, consisting of host families, Japanese participants, Local Session representatives, descendants and volunteers, gathered together for the Closing Ceremony at the Hyatt Regency Lake Washington on Sunday, September 23, making it the biggest Society event of the year.
Chika Aoki, the Program Director the John Manjiro-Whitfield Commemorative Center for International Exchange, says the participants have told her that "all the programs were very unique and it was different from before." The participants said the Summit had the "taste of Seattle and the State of Washington."
The Japan-America Society of the State of Washington is proud to have hosted this massive event. Even though the time here was short, we hope that the Japanese guests could learn something about the culture of Washington State and that we could learn something from them. Maybe some of the friendships made will continue on the same way Captain William Whitfield and John Manjiro Nakahama's has, all the way through fifth generation descendants.
Thank you to all those who supported the 28th Annual Japan America Grassroots Summit 2018 in Washington State. We hope you all had a fantastic time!