Thank you to everyone who attended Beyond Reconciliation: Celebrate the Japan-US Alliance and Honor Nisei Veterans on Sunday, September 9, 2018 at the Nisei Veteran's Memorial Hall. Over 200 people attended, including service members from the US Army 7th Infantry Division and the 1st Regt of the 1st Infantry DIV JGSDF. Our guest speakers spoke about the importance of the US-Japan alliance and the legacy left to us by the Nisei Veterans before we enjoyed a delicious lunch catered by Terry's Kitchen and Junkichi Robata Izakaya. After lunch, everyone watched a screening of Going for Honor, Going for Broke and acknowledged the 7 Nisei Veterans in attendance: Tak Akiyama, Mickey Hiroo, Kim Muromoto, Shig Tanagi, Tosh Tokunaga, Sab Tsuboi, and Sats Ishikawa. We finished the event with a fantastic performance from OKK Taiko and a group photo.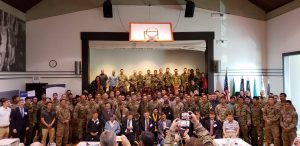 Thank you to everyone who came! And a very special thank you to NVC, Sasakawa Peace Foundation USA, Japan-US Military Program, and NAJAS for collaborating with us for the third consecutive year.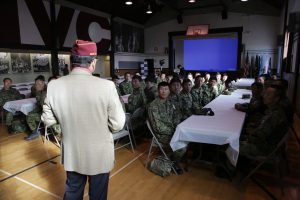 Past NVC Commander Allen Nakamoto emcee'd the event and gave a tour of the facility to the visiting JGSDF soldiers.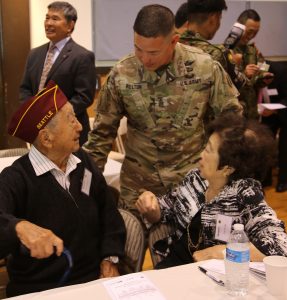 CSM Helton greeted Nisei Veteran , Shig Tanagi.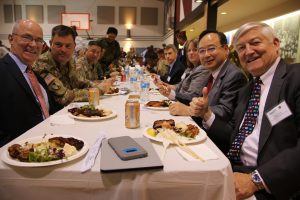 Guest Speakers Peter Kelley, MG Burleson, Consul General Yamada, and Jamie Kelly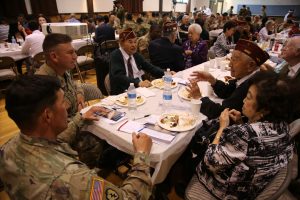 Soldiers from JBLM chatted with Nisei Vets