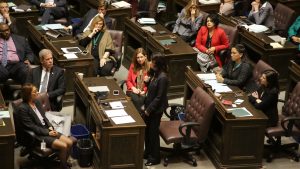 On February 15th, JASSW joined the Seattle Chapter JACL and other community groups in visiting Olympia to witness the adoption of HR 4613, recognizing Japanese American veterans, internees, and civil rights activists.
This was in order to honor the Day of Remembrance, the day in which the government bodies of the United States remember the terrible mistake made in the hysteria of WWII, when over 120,000 people of Japanese descent were forced into internment camps under Executive Order 9066.  Several members of the Washington State House of Representatives gave heartfelt speeches on the importance of remembrance, in order to avoid repeating past mistakes. Those in attendance who had been forced into internment camps, as well as WWII Nisei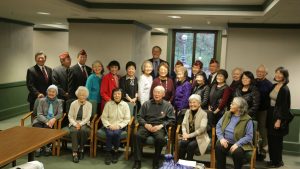 veterans were asked to stand and be recognized in the House, as well as at the lunch held afterward. After observing the passing of the bill, over 80 community members, including JACL and JASSW members, were able to hear firsthand accounts of the individual experiences that several of the attendees had in the internment camps. Also attending the lunch in order to recognize these people were Governor Jay Inslee, State Representative Sharon Tomiko Santos, and State Senator Bob Hasegawa.